The leading bicycle trade fair EUROBIKE in Frankfurt offers the cargobike industry a prominent stage: The Cargo Area!
In 2023 it will again be in the future mobility hall (hall 8). It has a direct access to the ouside test track and is next to the start-up area.
June 21 – 25, 2023 | Messe Frankfurt
Business days: Wednesday – Friday
Visitor days: Saturday/Sunday
cargobike.jetzt has been EUROBIKE's partner for organising the Cargo Area programme since 2018. From this year, we are joining forces with the German trade association Zukunft Fahrrad to further increase the prominence of the Cargo Area @EUROBIKE.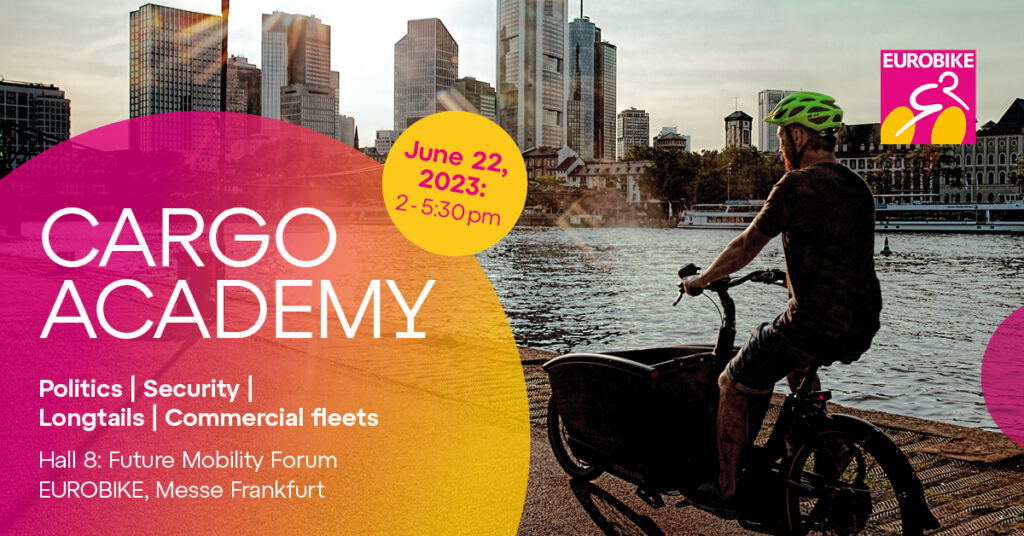 Programme EUROBIKE Cargo Area 2023
Modern cargo bikes and e-cargo bikes are an exciting growth market. Sales figures and model diversity are growing rapidly. New commercial and private forms of use are developing – from baby transport to heavy transport on the europallet. The Cargo Academy offers a prominent forum for professional exchange on the opportunities and challenges of the cargo bike boom.
14:00 – 14:30: Input from politics and organisations
14:30 – 15:15: Panel 1: Safety through standardisation: Update on the European EN standard for cargo bikes
15:20 – 16:05: Panel 2: Longtail cargobikes: From US outsider to European bestseller
16:10 – 16:55: Panel 3: Commercial Cargobike Fleets: Challenges and trends
17:00 – 17:30: Conclusion: Test Days & Presentation of nominated models for the International Cargobike of the Year Award (CABOTY) for commercial cargo bikes and trailers. Manufacturers can register their commercial cargo bikes and trailers for testing at this event here.
At the same time that cargo bikes are reclaiming the metropolises, cargo bike races are becoming increasingly popular. In contrast to classic road races, it is not only strength and endurance that count here, but also skill and a sense of proportion. At the Cargobike EuroCup the luggage has to be loaded or unloaded in each lap of the short sprint course – gripping scenes for the audience, which is directly involved in the racing action. But if you're expecting professional sport, you'll be proven wrong: these races are events by and for the Cargobike community and a pleasure for all participants.
The "flottes Gewerbe" project aims to promote the commercial use of cargo bikes in Frankfurt am Main, thereby making logistics more city-compatible and environmentally friendly. Eight companies will be given the opportunity to test a cargo bike that meets their individual requirements free of charge for a test period of four to six weeks. The test phase will begin in early June with a kick-off event in Frankfurt am Main. An extensive test fleet will be made available for on-site testing as part of EUROBIKE.
cargobike.jetzt provides manufacturer- and dealer-neutral information on all questions of cargo bike use. They offer individual advice on, among other things, choosing the right cargo bike, the respective requirements, and a general overview of the different types.
Guided tours
There will be five, 45-minute guided tours of the Cargo Area with Arne Behrensen. Two of them will take place on Wednesday: One – together with Martin Seißler – especially for media representatives and bloggers, and another – together with Alexander Lutz – especially for participants of the 8th National Cycling Congress. The other three tours will be on Thursday and Friday for trade visitors.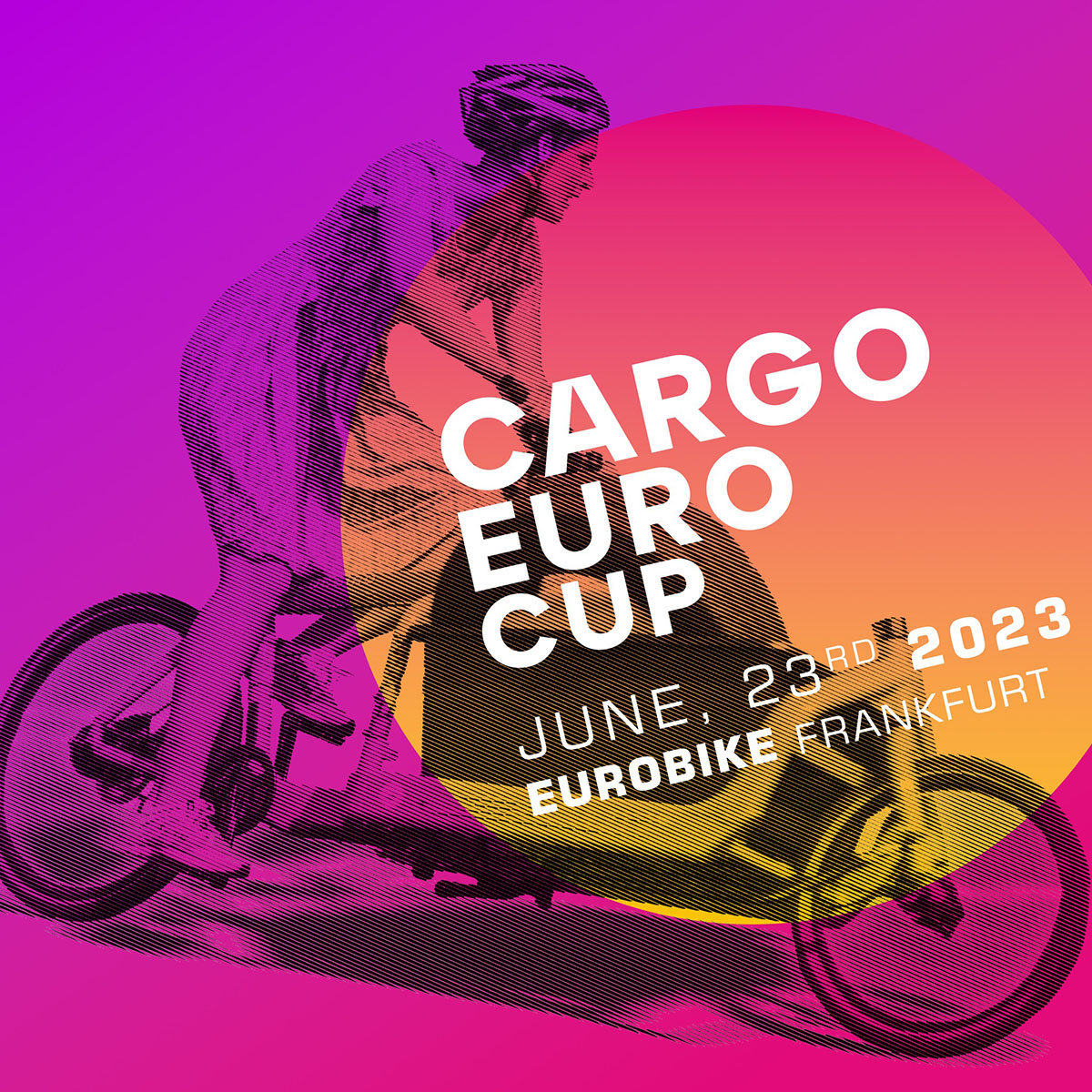 Contact
Gabriele Commisso
cargobike.jetzt
gabriele.commisso@cargobike.jetzt

Arne Behrensen
Zukunft Fahrrad
arne.behrensen@zukunft-fahrrad.org
Documentation EUROBIKE Cargo Area 2022
EUROBIKE moved from Friedrichshafen to metropolitan Frankfurt in 2022: "In Frankfurt, we will be selectively expanding the CARGO AREA" was announced by EUROBIKE director Dirk Heidrich. In July 2022, the Cargo Area in Frankfurt brought together over 50 cargo bike exhibitors in the prominent, 30.000 square meter Future Mobility Hall (Hall 8). Additional cargo bikes were presented in the nearby demo area.
At the new location at Messe Frankfurt, Eurobike 2022 has proven that the cargo bike segment is flourishing in Europe. We are very excited about the new opportunities brought about by this year's Eurobike.

Jorrit Kreek, co-founder and CEO of Urban Arrow
Programme
Wednesday, 13 July
16.00 – 16.45: Cargo Area Tour with cargobike.jetzt
From 18.00: Cargo Area exhibitor party | come along or offer drinks & snacks at your Cargo Area booth
Thursday, 14 July
10.15 – 13.00: CityChangerCargoBike conference: From niche to mainstream – how cargo bikes can transform mobility
13.30 – 13.50: Stage presentation: Cargo – a need for change? by Vredestein Tyres
14.00 – 18.00: Cargo Academy with panels on politics, components, parking and EN standard
From 18:00: Cargo Bike Social Ride with ['kvirder]®
Friday, 15 July
09.00 – 10.00: Cargo Academy: ECLF Cargo Bike Rider Training Scheme (workshop)
10.00 – 10.45: Cargo Area Tour with cargobike.jetzt
11.00 – 13.00: Panel Cargo bikes & urban logistcs powered by RLVD and ReLUT
11.00 – 13.00: Eisenguss neu denken: Shäroguss für Lastenradrahmen: Guido Rau, FONDIUM Group GmbH
Saturday, 16 July
10:00 – 10:45: Cycling with a Baby: Hannah Eberhardt, Verkehr mit Köpfchen
11:30 – 12:00: Commons Cargo Bikes: Wiebke & Timo Höfker, Forum Freie Lastenräder
14.00 – 14.45: Cargo Area Tour with cargobike.jetzt
Sunday, 17 July
10:00 – 10:45: Cargo Area Tour with cargobike.jetzt
11:00 – 17:00: Cargo Euro Cup – cargo bike race for fans and pros
Press