The Conference
Cargo Bike Sharing Europe: The annual expert conference
24 May 2023 | @polisMOBILITY trade fair in Cologne
Cargo bike sharing is growing across Europe. In Germany alone, cargo bike sharing is already available in more than 160 cities. Cargo Bike Sharing Europe is the first European expert conference focussing on cargo bike sharing. In May 2022, the conference was established as an annual event by cargobike.jetzt at the new polisMOBILITY trade fair in Cologne. From 2023, the conference is organized by cargobike.jetzt together with the industry association Zukunft Fahrrad.
The all-day programme includes thematic panels, a field trip and networking events to discuss latest developments, opportunities and challenges. Together we will showcase the huge potential of cargobike sharing for sustainable transport — especially for municipalities.
Cologne is the fitting place for that. The city is not only preparing a European tender for a major cargo bike sharing system in 2023. It will also host two important conferences for municipalities during polisMOBILITY: The bi-annual summit of the association of major German cities and the annual congress of bicycle-friendly cities in North-Rhine Westphalia.
For updates on the Cargo Bike Sharing Europe conference please join:
If you are interested in being a conference partner, sponsor or speaker please get in touch: conference@cargobikesharing.eu. For additional exhibition opportunities at polisMOBILITY please check the exhibitor information here.
Programme
07.30 – 08.30 Early morning event (location tbc)
08:00 – 09.00 Registration & soft-opening
09:00 – 09:45 Conference opening and keynote
09.45 – 12.30 Thematic panels
Cargo bike sharing in Cologne: One city, different systems
Users and potential users of cargo bike sharing: What do we know?
Hardware and software for cargo bike sharing: Innovations and challenges
12.30 – 13.30 Lunch break
13.30 – 15.30 Case studies
Operators of cargo bike sharing
Municipalities & cargo bike sharing
15.30 End of closed conference
16.00 – 17.00 Stage panel "Cargo bike sharing in Europe" and networking with fair visitors
@Cologne City
18.00 – 19.00 Cargo bike sharing site visits / Bike Tour through Cologne starting from polisMOBILTY
@muli-cycles / Widdersdorferstr. 190, 50825 Cologne
19.00 – open end Buffet and networking event
Tickets
Ticket sales will open soon!
Sponsors
An attractive set of sponsoring packages offers visibility for companies before, during and after the conference. You can find more information here.
Gold Sponsors
Contact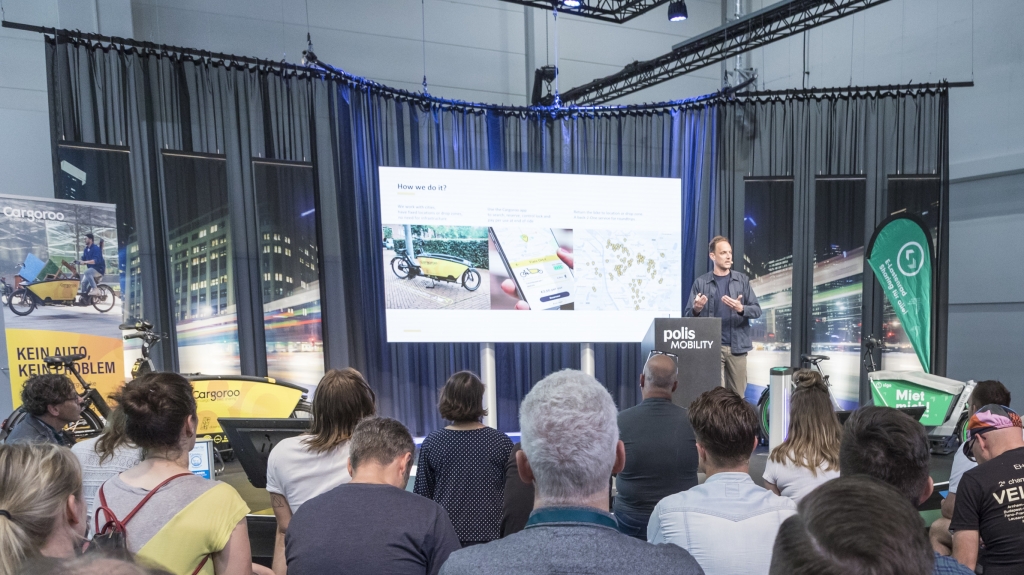 Documentation
The Conference
The first Cargo Bike Sharing Europe conference was held on 18/19 May 2022 in Cologne. It brought together around 100 experts from across Europe at the new trade fair polisMOBILITY in Cologne. Representatives of the European Commission, the German federal transport ministry and the City of Cologne opened the conference.