The Conference
Cargo Bike Sharing Europe: The annual expert conference
24 May 2023 | @polisMOBILITY trade fair in Cologne
Cargo bike sharing is growing across Europe. In Germany alone, cargo bike sharing is already available in more than 160 cities. Cargo Bike Sharing Europe is the first European expert conference focussing on cargo bike sharing. In May 2022, the conference was established as an annual event by cargobike.jetzt at the new polisMOBILITY trade fair in Cologne. From 2023, the conference is organized by cargobike.jetzt together with the industry association Zukunft Fahrrad.
The all-day programme includes thematic panels, a field trip and networking events to discuss latest developments, opportunities and challenges. Together we will showcase the huge potential of cargobike sharing for sustainable transport — especially for municipalities.
Cologne is the fitting place for that. It is birthplace of the commons cargo bike movement, had the first app-based e-cargo bike sharing system and recently e-cargo bikes became part of the public transport system. During polisMOBILITY 2023, Cologne is also hosting the general assembly of major German cities and the congress of North-Rhine Westphalia´s cycle-friendly cities who both have a cooperation with the Cargo Bike Sharing Europe conference.
If you are interested in being a conference partner, sponsor or speaker please get in touch: conference@cargobikesharing.eu.
For updates on the Cargo Bike Sharing Europe conference please join:
polisMOBILITY
The Cargo Bike Sharing Europe Conference is hosted by the trade fair polisMOBILITY (24-26 May), which offers additional exhibition and sponsoring opportunities. For details check the polisMOBILITY webpage or get in touch with Diana Dréan @Koelnmesse: d.drean@koelnmesse.de, +49 221 821 2264.
Programme
07.45 – 08.15 Press event and site visit
Cargo Bike Sharing Europe press event with photo opportunity and cargo bike test ride.
KVB Cargo Bike Sharing station, Tempelstraße corner Benjaminstraße, 50679 Köln-Deutz.
@Cologne fair / Congress Centrum West / Kristallsaal
08.15 – 09.00 Registration & soft-opening
12.30 – 13.30 Lunch break
15.30 End of closed conference
Evening Event
18.15 – 19.00 Bike ride from polisMOBILITY to evening event venue – including short cargo bike sharing site visits
19.00 – open end: Get together & buffet at cargo bike manufacturer @muli-cycles / Widdersdorferstr. 190, 50825 Cologne-Ehrenfeld / hosted by industry association Zukunft Fahrrad, city network AGFS-NRW and Dutch Cycling Embassy
Tickets
Conference tickets must be booked online in advance. Lunch, dinner and access to the polisMOBILITY trade fair on 24 May are included.
Ticket discount for students, researchers and voluntary associations:
Press accreditation – please send us a proof of your journalistic work:

IMPORTANT: Please apply for the discount before purchasing the ticket by writing us directly. After purchase, the ticket cannot be discounted.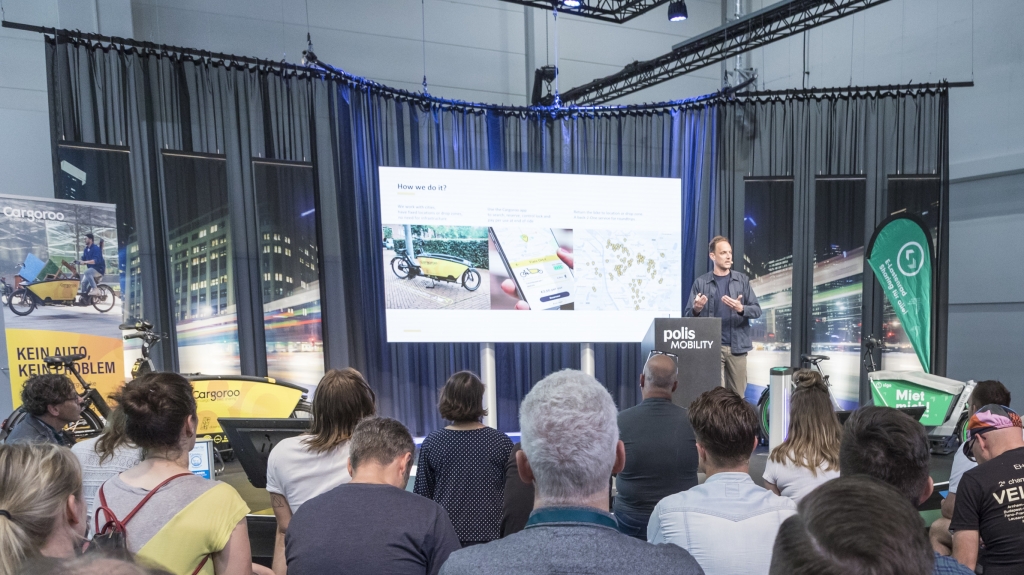 Documentation
The Conference
The first Cargo Bike Sharing Europe conference was held on 18/19 May 2022 in Cologne. It brought together around 100 experts from across Europe at the new trade fair polisMOBILITY in Cologne. Representatives of the European Commission, the German federal transport ministry and the City of Cologne opened the conference.