CARGOBIKE QUARTETT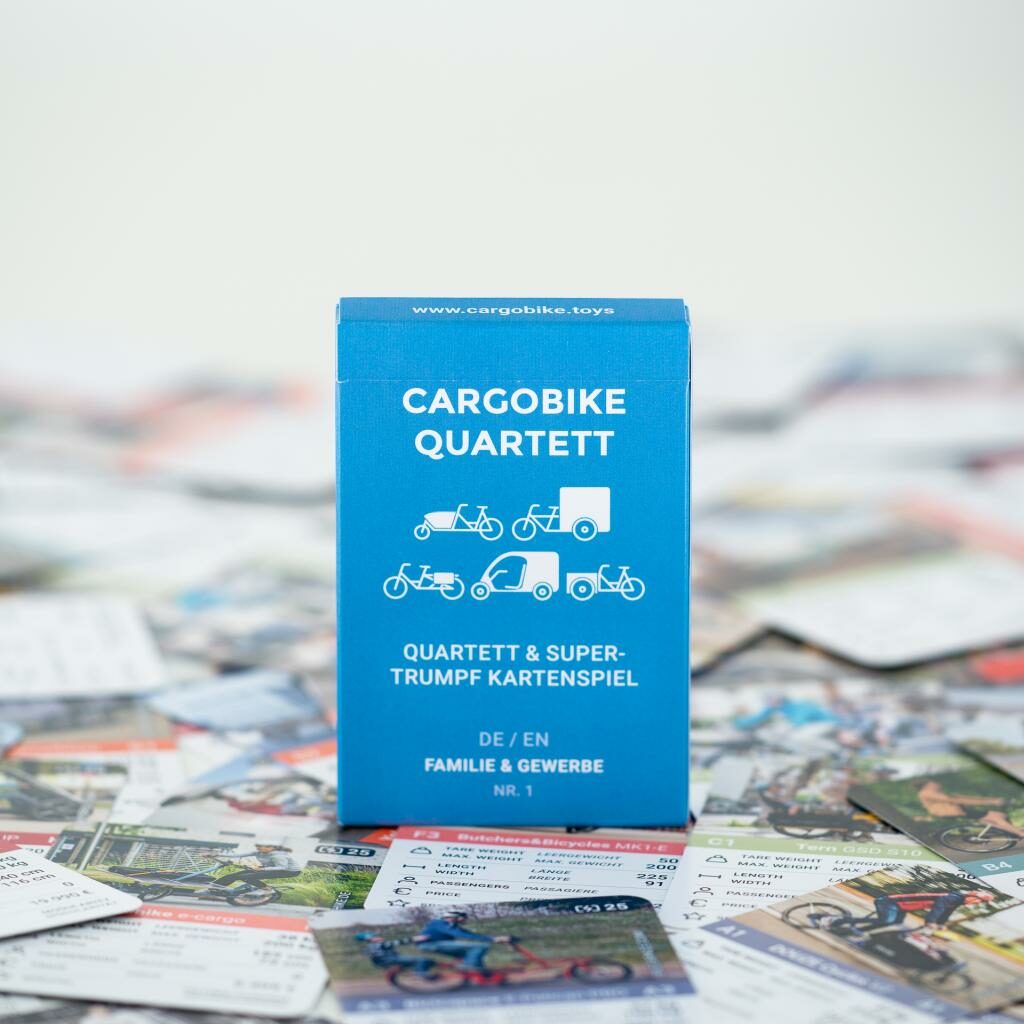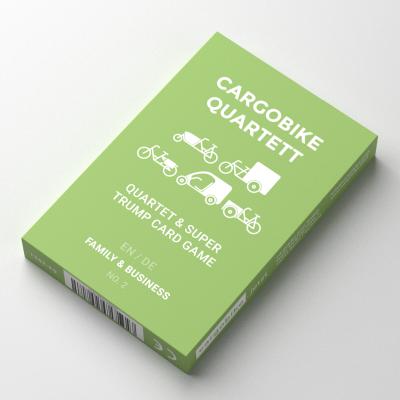 Quartett & Super Trump card game / Quartett & Supertrumpf Kartenspiel
A cargobike.toys project
---
Specs
32 playing cards with 32 cargo bikes
with tare weight, max. weight, length & width, number of passengers, and price based on manufacturer specifications for the displayed buildup
bilingual English & German
two game modes: Quartett and Super Trump
100 % car- and plastic-free
Price (RRP): 6,50 €
Spezifikationen
32 Spielkarten mit 32 Cargobikes
mit Leer- & Maximalgewicht, Länge & Breite, Anzahl Passagiere und Preisklasse basierend auf Herstellerangaben zur abgebildeten Aufbauversion
zweisprachig Englisch & Deutsch
zwei Spielformen: Quartett und Supertrumpf
100 % auto- und plastikfrei
Preis (UVP): 6,50 €
---
Cargobike Quartett No. 2
Family & Business | Dec. 2021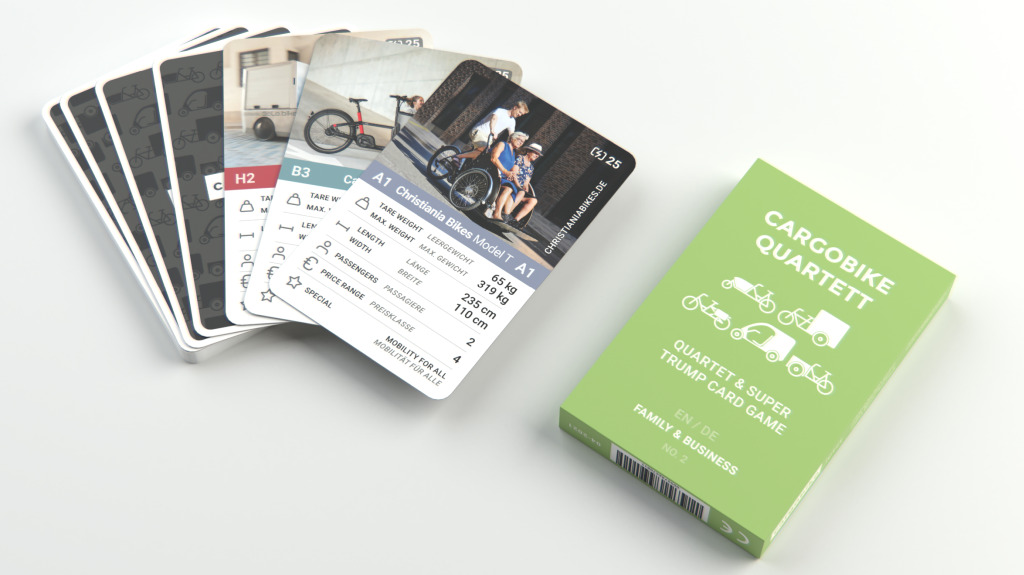 32 cards with 32 cargo bikes from 32 brands:
Babboe Pro, Bastiaen Cargo, Bayk, Bizz On Wheels, Black Iron Horse, Bullitt-Bike.de, Cargo Bike Monkeys, Cargoli, Citkar, CityQ, Carqon, Flevobike, Hase Bikes, Mäx & Mäleon, O2FEEL, Omnium, Rytle, Sigo, Sum Solutions, Tricargo, Veload, Vowag, Yoonit, Douze Cycles, Urban Arrow, Radkutsche, Tern, Yuba, Christiania Bikes, Winther Bikes, Gleam, Chike
No duplication of models from Quartett No. 1!
---
Cargobike Quartett No. 1
Family & Business | April 2021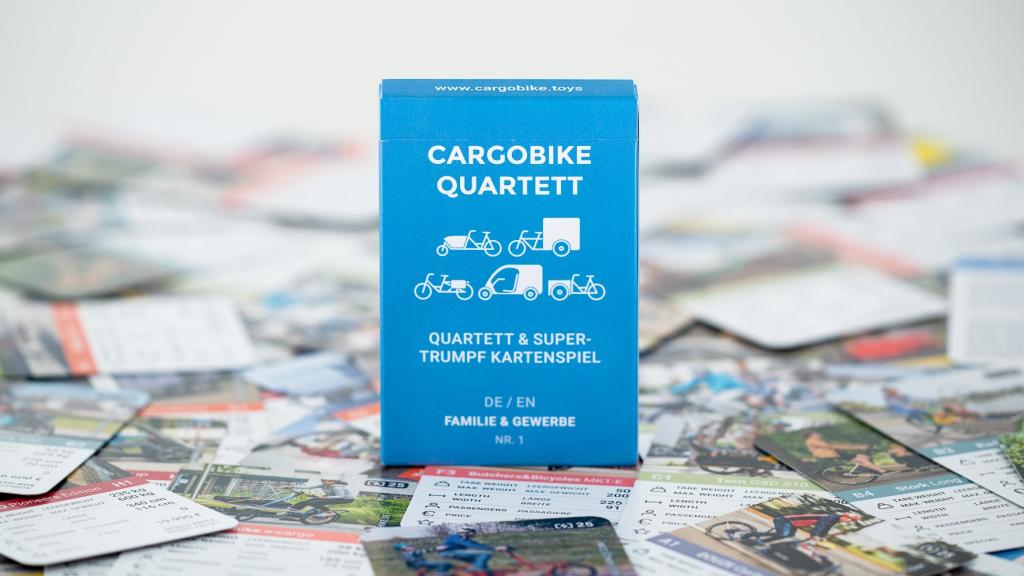 32 cards with 32 cargo bikes from 30 brands:
Douze Cycles, Muli Cycles, Bicicapace, Rikscha, Urban Arrow, Ca Go Bike, Radkutsche, Stork, Tern, Yuba, Benno, Christiania Bikes, Coolly, Winther Bikes, VUF, AuRa, Larry vs Harry, Veleon, Triobike, Gleam, Chike, Butchers & Bicycles, sblocs, Maxpro, XCYC, Yokler, BKL, ONO, Bio-Hybrid, XYZ Cargo
---
Dealers / Händler
Resellers can order from 20 sets in our B2B Online shop and will be listet in the dealer list upon request.
Händler können ab 20 Exemplare in unserem B2B Webshop bestellen und werden auf Anfrage in die Händlerliste aufgenommen.
AT
BE
DE
DK
ES
FR
IT
SE
---
The CARGOBIKE QUARTETT can be played as classic Quartett or with Super Trump rules.
Das CARGOBIKE QUARTETT lässt sich als klassisches Quartett oder mit Supertrumpf-Regeln spielen.
Quartett rules
From 3 players
Aim of the game: Collect the most quartets. A quartet consits of four cards of the eight card categories A to H.
Distribute all cards evenly and hold them face down. Ask a fellow player for a specific card (e.g. B3 or F2).
Strike? The requested card is yours and you can ask the same or another player for another card.
No strike? The other player can ask you or another player for a card.
When you have a complete quartet, discard the four cards. The player who collects the most quartets is the winner.
Quartett-Spielregeln
Ab 3 Spieler:innen
Ein Quartett besteht aus allen vier Karten einer der acht Karten-Kategorien A bis H. Wer am Spielende die meisten Quartette besitzt gewinnt.
Verteil alle Karten gleichmäßig und haltet die Karten verdeckt. Frag eine andere Person nach einer bestimmten Karte (z.B. B3 oder F2).
Treffer? Du bekommst die Karte und bist erneut dran.
Kein Treffer? Die andere Person ist an der Reihe und kann Dich oder eine weitere Person nach einer Karte fragen.
Wenn Du ein Quartett voll hast, leg die vier Karten ab. Wer am Ende die meisten Quartette abgelegt hat gewinnt.
Super Trump rules
From 2 players
Decide for each of the six values of the cargo bikes if the highest or lowest value should win.
Distribute all cards evenly. Each player holds their stack with only the topmost card visible to themselves.
Read out one of the six values of the cargo bike on your topmost card (e.g. Length: 2,45m).
You have the best value among all players' topmost cargo bikes? Collect the other cards, put them (together with your own card) behind your pile and continue with a value of the next topmost cargo bike.
Another player has the best value? This player collects all cards and continues.
Two or more cargo bikes have the same best value? The next card decides.
If you have only three or less cards left: You can choose the best value from all your remaining cards in every round.
When you have the entire cargo bike fleet, you have won!
Supertrumpf-Spielregeln
Ab 2 Spieler:innen
Legt für alle sechs Werte der Cargobikes fest, ob der niedrigste oder der höchste Wert gewinnen soll.
Verteil alle Karten gleichmäßig. Alle nehmen ihre Karten als Stapel auf, von dem nur die oberste Karte für sie selbst sichtbar ist.

Nenne Dein oberstes Cargobike und einen der sechs Werte (z.B. Länge: 2,45 m).
Wer auf der obersten Karte den besten Wert hat, erhält die oberste Karte aller anderen Mitspieler*innen, steckt sie (zusammen mit der eigenen Karte) hinten in den eigenen Stapel und nennt einen Wert der nächsten obersten Karte.
Zwei oder mehr Cargobikes haben den gleichen Wert? Wer zuerst "sticht!" ruft darf den Wert für die nächste Runde (das "Stechen") auswählen. Wer das Stechen gewinnt erhält alle Karten beider Runden.
Hast Du nur noch drei oder weniger Karten? Dann kannst Du in jeder Runde den jeweils besten Wert aus den verbliebenen Karten auswählen.
Du hast den gesamten Cargobike-Fuhrpark auf der Hand? Gewonnen!
---
Downloads